| | | |
| --- | --- | --- |
| | English version under construction | |
Note:

The UTaC team welcomes you to the English version of "Un tributo al Chueco" (A tribute to el Chueco). We are just opening the site and, right now, only Fangio's biography and the Steve Barber Article is available in English. We will continue working to give you as soon as possible additional contents translated to English.If you detect any kind of syntax or semantic error, please let us know. We will apreciate your help. Thank you and enjoy.
---

UTaC Team is Un Tributo al Chueco Team.
-=[ Gerardo Sabaris, Vicente J. Sillitti, Gustavo Morales Peña & Ivan Clavijos ]=-
vicylole@jmfangio.org
---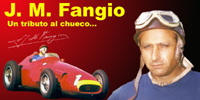 Special Thank´s for the translation of Steve!.
(c) 1999-2010 UTaC Team. Ultima actualización de ésta hoja: 26/03/2010
Comentarios, colaboraciones, etc.:vicylole@jmfangio.org